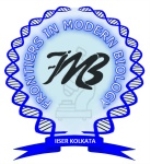 About the Symposium
Department of Biological Sciences, Indian Institute of Science Education and Research (IISER) Kolkata cordially invites you to participate in the Frontiers in Modern Biology (FIMB)-2020 to be held in our extensive green campus in Mohanpur, West Bengal. The first session of the symposium will start at 9:00 am on Friday, February 28, and the final session will end around lunch (1:00 pm) on Saturday, February 29. The central theme of the symposium is to provide a comprehensive exposure "from Molecules to Systems" across the diverse field of modern biology. FIMB will enable graduate students and postdoctoral fellows to share their research and accomplishments as well as get exposure to the cutting-edge research conducted by eminent experts in various fields of Modern Biology.
About the Department of Biological Sciences
The Department of Biological Sciences at IISER Kolkata integrates cutting edge research with innovative teaching at undergraduate and post-graduate levels, constantly striving towards academic and scientific excellence. The diverse fields of research, and the expertise and enthusiasm of department members in an intellectually stimulating interdisciplinary climate, make the Department of Biological Sciences a very dynamic place for nurturing the next generation of scientists, and for developing an excellent research programme directed towards answering various outstanding questions in biology.